Product Description
Leaky clamps are widely used in the area where communication antenna cannot work, especially in mountain areas, hills, tunnels, underground railway, underground building, shopping mall and other places where there is not enough signal coverage supplied by mobile communication individual antenna.
Telsto leaky clamps are designed for different tunnels installation and kinds of underground building systems. The material of these products is high standard stainless steel and high quality nylon plastics.
Features:
Various clip clamps are applicable for fixing radiating cables.
Materials combination flexibility.
Made of high quality anti-acid steel.
Modified plastics and non-rusting under any weather conditions.
Suitable for various size cables.
---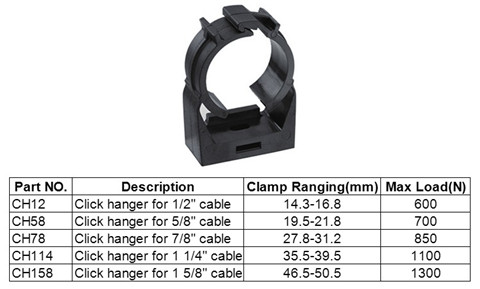 Click Hanger
· Click clamps are used for installing radiating cables in galleries and tunnels
· Lock with 1 or 2 locking positions.
· The hanger with additional adapters can be installed on the ceiling and wll.
· UV and corrosion resistant with PA.
Trade Information
---
| | |
| --- | --- |
| Trade terms | CIF, DDU, EX-WORKS |
| Payment terms | T/T, L/C, Negotiable |
| MOQ | 1 |
| Supply capability | 1000000 pieces per month |
| Lead time | 3-15 days |
| Shipment | Sea, Air, Express |
| Port | Shanghai, Ningbo, Shenzhen |
| Sample availability | Yes |
| Sample time | 3-5 days |
| Packaging | Plastic bag, Carton, Pallet |
Quick Details
---
Place of Origin: Shanghai, China (Mainland)
Brand Name:Telsto
Model Number: Radiating/Leaky Cable Clamp
Product Line: Cable Clamp
Product Type:radiating/leaky cable clamp
Size:1/4"-2 1/4"
Material of metal part: 304
Material of plastic part:PP/PA/EPDM
salt spray test: 72h
surface treatment:Passivated
Warranty: 3 years
Application: telecom cable installation
OEM: accepted
---
We are professional manufacturer of these feeder clamps for 11 years, We manufacture various types of these feeder cable clamps matching 1-6 cables of sizes of 1/4", 1/2"s,1/2" ,7/8", 1-1/4", 1-5/8",etc.
Any inquiry or question of feeder clamps, just feel free to contact me.
----easy to install
----UV & damp resistant
----corrosion resistant
----good quality with good price
----reliable service
| | | |
| --- | --- | --- |
| TYPE | DIAMETER(MM) | LENGTH(MM) |
| 1*3/8" | 10.5 | 100-170 |
| 1*1/2"S | 13.5 | 100-170 |
| 1*1/2" | 16 | 100-170 |
| 1*7/8" | 27.5 | 100-170 |
| 2*3/8" | 10.5 | 120-190 |
| 2*1/2"S | 13.5 | 120-190 |
| 2*1/2" | 16 | 120-190 |
| 2*7/8" | 27.5 | 120-190 |
| 2*1-1/4" | 39.5 | 120-210 |
| 2*1-5/8" | 50 | 120-210 |
| 3*3/8" | 10.5 | 130-210 |
| 3*1/2"S | 13.5 | 130-210 |
| 3*1/2" | 16 | 130-210 |
| 3*7/8" | 27.5 | 130-210 |
| 3*1-1/4" | 39.5 | 130-240 |
| 3*1-5/8" | 50 | 130-240 |
| 4*3/8" | 10.5 | 150-280 |
| 4*1/2"S | 13.5 | 150-280 |
| 4*1/2" | 16 | 150-280 |
| 4*7/8" | 27.5 | 150-280 |